After the Dark: Hostage Situation
People
18
Situation
Taken Hostage
People
Series Chronology
Previous Season
A Late Night
Next Season
The Dragon
After the Dark: Hostage Situation is the thirteenth season of After the Dark.
Introducing new hosts and factors of the game, the season proved to be successfully received among the players. Also known for its active cast and many instances of groups consisting of one person.
Person
Age
Profession
Trait
Status

Amoline
"Jo"
31
Radio Host
Has written a book.
Survived

LúdicoManao
"Nuno"
33
Farmer
Has a limp.
Survived

TheAspie
"Noah"
37
Prison Guard
Knows Taekwondo.
Survived

Diego Antonio
"Diego Antonio"
21
Former Student
Convicted of grand larceny; Erica's boyfriend.
Deceased
6:00
Crushed by rocks.

L00cyGirl
"Lucy"
46
Senator
Caleb's aunt.
Deceased
4:00
Shot by Jo.

Kuzuri
"Kaeden"
40
Former Engineer
Convicted of arson; Tung's father.
Deceased
2:00
Sliced in half.

AmazingPurry
"Purry"
37
Prison Warden
Low blood sugar.
Deceased
2:00
Head blown off.

ZiggyW.
"Ziggy"
26
Former Cashier
Convicted of tax evasion.
Deceased
1:00
Blown up by grenade.

District3
"Joan"
47
Prison Guard
Partially blind.
Deceased
00:00
Shot by Unknown.

Caleb Loki
"Caleb"
22
Formerly Unemployed
Convicted of manslaughter; Lucy's nephew.
Deceased
00:00
Shot by Unknown.

SurvivorAUOGUA123
"Ruby"
42
Chemist
Speaks French.
Deceased
00:00
Shot by Unknown.

RevengeOfTheNerds
"George"
33
Former Child Star
Convicted of accounting fraud.
Deceased
00:00
Shot by Unknown.

Fakeboy823
"Jaylen"
38
Prison Guard
Wrestles as a hobby.
Deceased
23:00
Shot by Burned Captor.

Perseus Potter
"Tung"
17
Student
Kaeden's son; has an IQ of 145.
Deceased
22:00
Electrocuted.

1stHonor
"JA"
52
Former Chef
Convicted of drug-related offenses.
Deceased
21:00
Shot by Blond Captor.

Blue-Ribbonz
"Rebekah"
63
Former Executive
Divorced twice.
Deceased
21:00
Shot by Blond Captor.

HappyPie
"Erica"
22
Real Estate Agent
Diego's girlfriend.
Deceased
20:00
Shot by Burned Captor.

Killerskull2
"Dakota"
29
Nautical Captain
Afraid of the dark.
Deceased
19:00
Shot by Older Captor.
Person
Age
Profession
Note
Status
Unknown
Mid-Thirties
Unknown
Larger man, serious burns, captor.
Unknown
Unknown
Early Fifties
Unknown
Seems mentally unstable.
Unknown
Kimberly
34
Prison Official
Previously a female firefighter; married to Kent.
Unknown
Kent
36
Prison Guard
Knits in his spare time.
Unknown
Cameron
41
Former Accountant
Schizophrenic; hoards strange objects.
Unknown
Needles
62
Inmate
Has a psychological disorder.
Survived
Jett
72
Former Magician
Longest serving prisoner.
Deceased
00:00
Shot by Unknown.
Unknown
Twenties
Unknown
Blond, captor.
Deceased
21:00
Throat slashed by JA.
Prison Map
Edit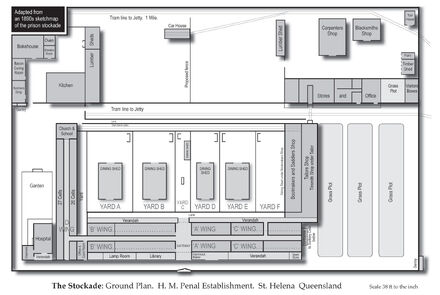 Timeline
Edit
18:00:
In the Winfield J Scott Federal Prison, the group was captured by three captors: a younger blond man, a larger, seriously burned man, and an older, mentally unstable man