Danganronpa - And Then There Were None is the seventh season of Danganronpa and the first season of its second generation.
Season Changes
Edit
Location: The Prison School of Gifted Inmates; The New College of All Talents
Murder Visuals Implemented.
Person
Trait
Status

Alf
Ultimate Pizzaiolo
Released

Montgomery
Ultimate Military Tactician;
Survivor Union President
Won 

(Mastermind)


Nini
Ultimate Medium
Lost

Mirlana
Ultimate Debator
Lost

Pyrargyrite
Ultimate Choir Member
Lost

Coco
Ultimate Tea Guru
Lost

LeShandria
Ultimate Underground Fighter
Lost

Aro
Ultimate Mathematician
Executed (Mistrial)
CHAPTER 4

Sean
Ultimate Hacker
Murdered
CHAPTER 4

Dani
Ultimate Baker
Executed
CHAPTER 3

Gavin
Ultimate Hypnotist
Poisoned
CHAPTER 3

Asa
Ultimate Manga Artist
Murdered
CHAPTER 3

Nubo
Ultimate Librarian
Murdered
CHAPTER 3

Tiffany
Ultimate Manager
Shot
CHAPTER 3

Asteria
Ultimate Dream Interpreter
Executed
CHAPTER 2

Travis
Ultimate Actor
Murdered
CHAPTER 2

Jackson
Ultimate Hotshot
Executed
CHAPTER 1

Hugh-Mungus
Ultimate Comedian
Murdered
CHAPTER 1
Note: There were a series of deaths that did not play as part of the main killing game. Wendy shot herself whilst playing Russian Roulette and Gavin willingly ingested a poisonous berry during Chapter 3's investigation.
LeShandria faked her death in Chapter 4, it was revealed mid-trial that she'd been hiding in the trial room using The Science Corner's secret entrance to the trial room.
Rulebook
Edit
You are forbidden taking off your watch at any time.
The invigilator may add rules at any moment.
Trying to damage any of the school's equipment on purpose or littering the school area is forbidden.
To meet the requisites of an early release you have to kill one of your classmates and get away with it.
Three people have to find the corpse to make a murder official. An announcement will play once this condition is met.
Students are granted a period of investigation once the body discovery announcement is made, their goal is to gather evidence about the crime.
After the Investigation period is over, the students are to have a trial and in the end vote for whom they believe is the culprit.
If the majority vote for the killer, the killer is executed.
If the majority vote is wrong, the killer is given early release conditions meanwhile the innocent person who receives the majority vote gets executed in the killer's place.
If three people manage to meet the early release conditions, the remainder of the participants will be executed as punishment for their corruption and incompetence.
Y

ou are to only sleep at night inside of bedrooms.

You can only sleep during the night at either your assigned bedroom or the bedroom of somebody of your same gender.
Only the one person in trash duty can possess the trash room key. The person on trash duty must be changed every week.
Showers and sinks won't work at night.
It is forbidden to steal the material provided to individuals for school events prior or during said event.
The Truth Files
Edit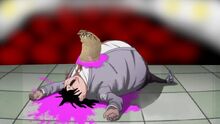 Case 1: Hugh-Mungus, Ultimate Comedian.
Time of Death: 7:35 PM
Cause of Death: Damaged internal organ(s).
There were no willing accomplices.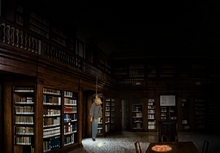 Case 2: Travis, Ultimate Actor
Time of Death: 7:03 AM
Cause of Death: Choking.
There were no willing accomplices.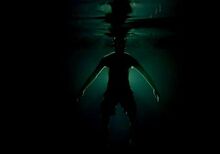 Case 3A: Nubo, Ultimate Librarian
Cause of Death: Respiratory impairment
Death Location: The Aquarium
There were no willing accomplices.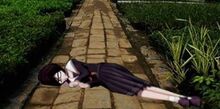 Case 3B: Asa, Ultimate Manga Artist
Cause of Death: Poisoning
Death Location: Pathway between Crops and Bushes
There were no willing accomplices.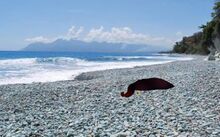 Case 4A: LeShandria Black, Ultimate Underground Fighter
Body damaged beyond recognition.
Covered in a wax-like substance.
Did not die due to watch poison.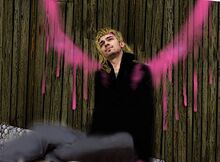 Case 4B: Sean, Ultimate Hacker
Time of death unclear.
Died of blood loss.
There was one willing accomplice.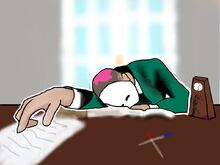 Case 5: ???, Ultimate ???; Nova Worder, Survivor Union Secretary
Time of body discovery - 1:27 PM
Died from a fatal blow.
The room was completely locked prior to the incident.